Chiang Rai Loop Detailed Travel Guide 2022
Intro
The Chiang Rai Loop starts in Chiang Mai and circles some of the highest peaks of Thailand that covers about 720 km around two mountain tops – Doi Thung and Doi Angkhang. The route has a lot of steep slopes and drastic lows going over the mountains. The best way around the Chiang Rai Loop is on a motorcycle or car but it is not recommended for novice riders or travelers who are unsure of their motor skills – take a bus or taxi instead.
If you are using a motorbike with an automatic transmission, be sure to read the article about why, if the brakes are used incorrectly on mountain slopes, brake fluid can boil, which leads to brake failure, even if the brake pads and brake fluid DOT4+ were changed a couple of days ago – https://catmotors.net/blog/brake-fluid-survival-guide/
Chiang Rai Loop, Day 1: Chiang Mai – Chiang Rai
Direct route – 186km
Scenic route – 232km
Most loops that tourists travel through in Northern Thailand start at Chiang Mai, this is because Chiang Mai is home to an international airport and flying to Northern Thailand is the quickest way to get there. Chiang Rai loop is no exception.
Onwards to Chiang Rai, however, the only option to get there is by road. Here are some places you should visit along the way.
Things to do on the way to Chiang Rai:
Mae Khachan Hot Spring
Northern Thailand is known for its Hot Springs as they are scattered across the hilly terrain of the North and attract loads of tourists every year. Mae Khachan is one such hot spring that is on the road between Chiang Mai and Chiang Rai – a stop on the way that most people make.
At the spring you will find a few local eateries, people taking a dip in the warm pools and of course, the traditional egg boiling, both of which are very normal sights at any hot spring in Thailand.
Khun Korn Waterfall
The Khun Korn Waterfall is one of the most beautiful waterfalls Northern Thailand has to offer! The waterfall is quite close to the centre of Chiang Rai (30 km) and is also one of the districts tallest, coming in at around 70 meters high, we highly suggest visiting this beauty! The waterfall also comes with a 1.5 km trail from the carpark leading up to it so we recommend you wear a good pair of trekking or walking shoes. While the waterfall does get a couple of tourists, it is never too crowded and during the summer months you will see a lot of locals taking a dip in the cool waters of the waterfall.
Do not be lazy to walk to the waterfall! You still have two-three more days of tiring motorcycle riding around the Chiang Rai Loop.
Things to do in Chiang Rai:
Wat Phra Singh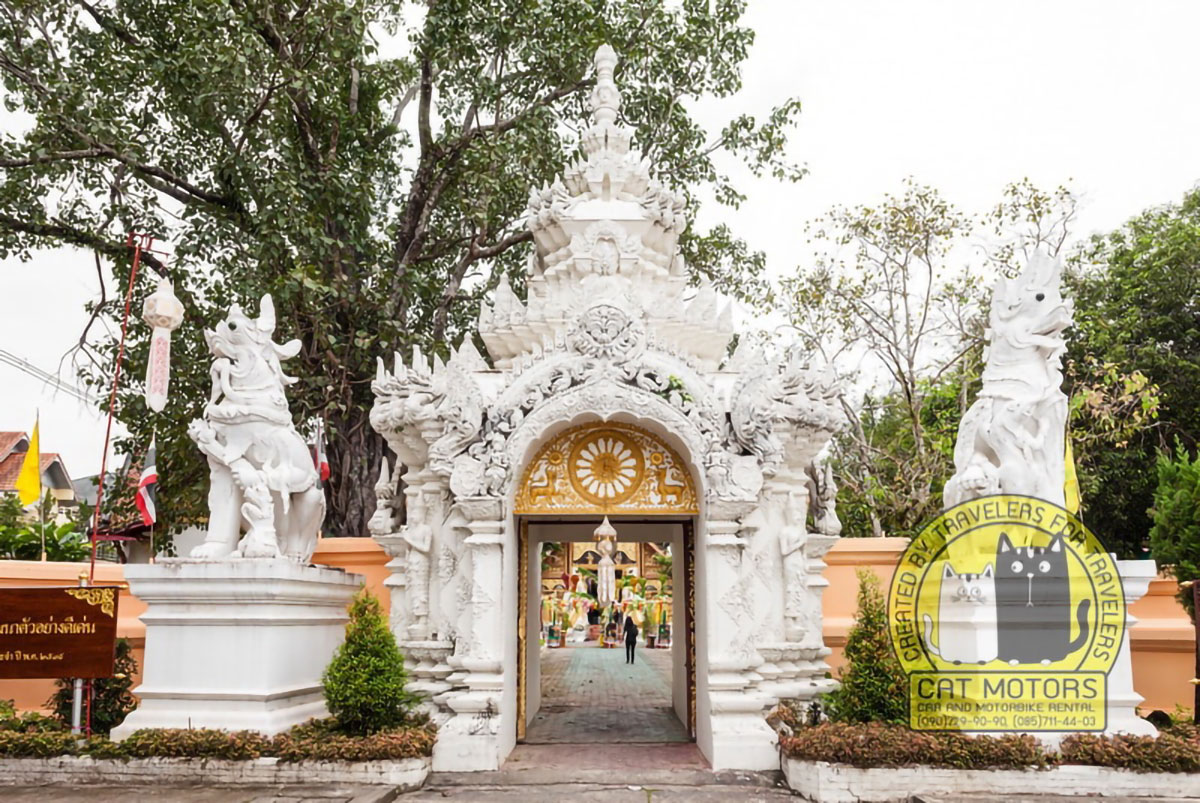 The Wat Phra Singh Temple was originally built in Chiang Rai that also housed a very auspicious statue of the Buddha that pilgrims from all over the world would come to see – but over the years, the statue has been relocated to the Wat Phra Singh in Chiang Mai.
The Wat Phra Singh Temple in Chiang Rai, however, is still worth the visit. The temple was built in old Lanna style which includes many pillars with intricate golden carvings.
Wat Phra Kaew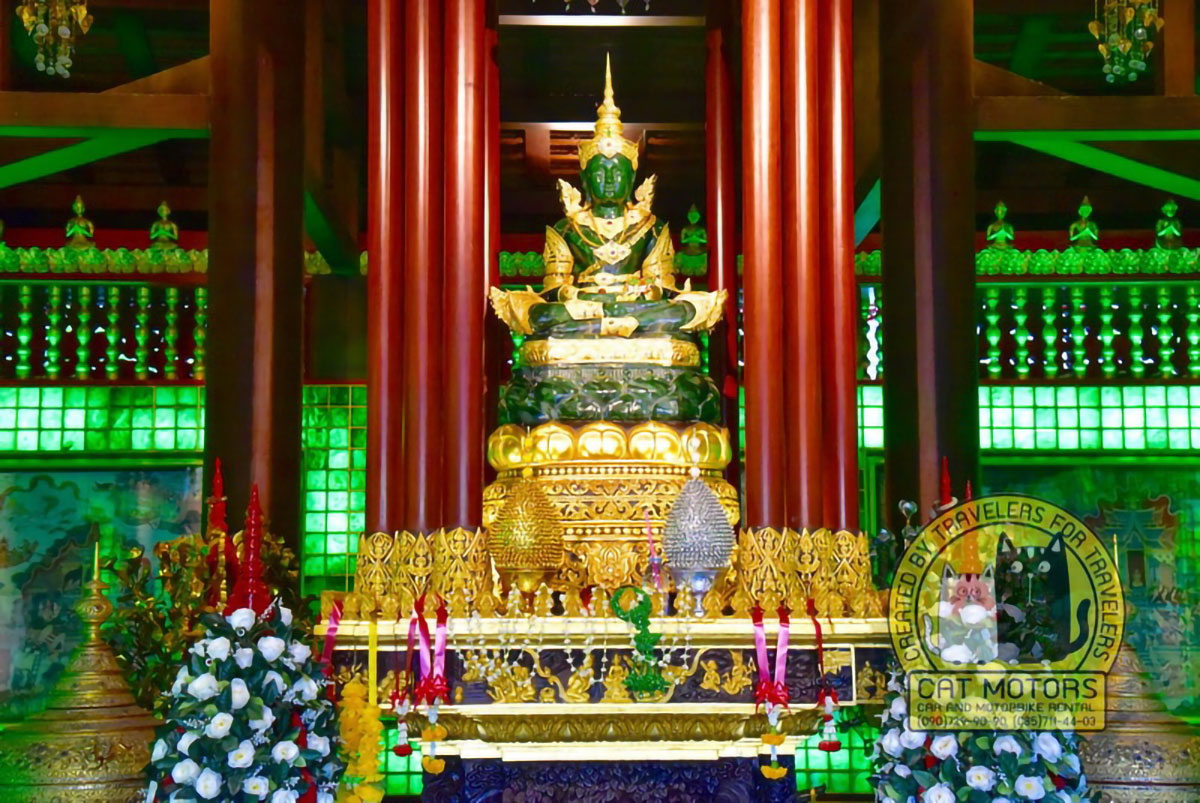 The Wat Phra Kaew is officially called the Wat Phra Si Rattana Satsadaram (which translates to The Temple of the Emerald Buddha in English). Being one of Thailand's most sacred and revered Temples amongst Buddhists for once housing the original statue of Buddha,The Temple of the Emerald Buddha now only houses a replica, made of green jade as the original was relocated to Chiang Mai
Wat Phra That Doi Thong
The Wat Phra That Doi Thong is an ancient monastery in Chiang Rai built atop a mountain that offers a nice vantage view of Chiang Rai. The Temple holds quite a uniqueness to it for it's unusual Buddhist articles and the pillars that are arranged in accordance with Lanna tradition, representing the relationship between Buddhism and Hinduism.
The temple has been in use for over a 1,000 years now and was a local spirit house long before Buddhism arrived in the area.
Wat Ming Mueang
Wat Ming Mueang is a 700 year old temple in Chiang Rai known for its intricate architecture and beautifully painted ceiling. Back in the day, The Temple was of utmost importance in the town because of its royal patronage.
Inside the temple you will find a lot of artifacts and collectibles that are of historical importance that prove connections between multiple diverse cultures, most of them being put on display for tourists. The building is erected in typical Thai style architecture and at one point was known as Tai Yai people's Temple.
Gold Clock Tower (21:00)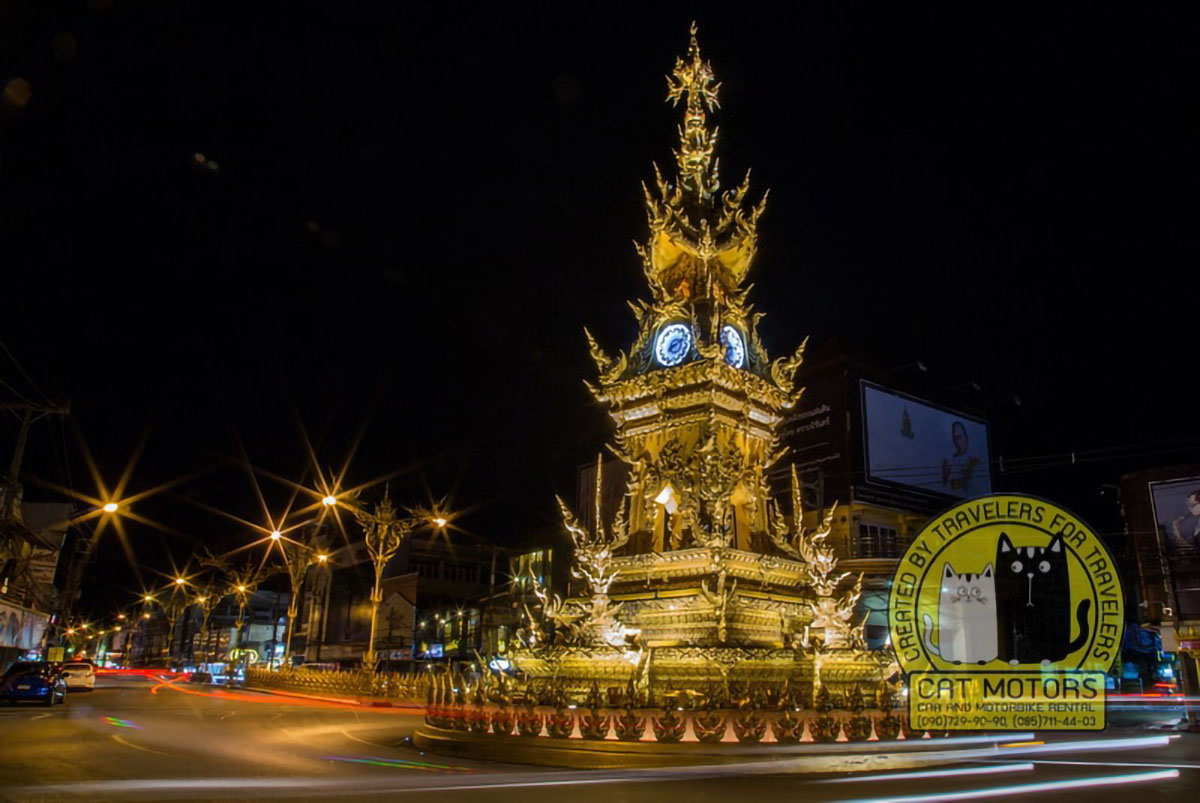 The Gold Clock Tower is a work of art that was unveiled in 2008 by a Thai artist known as Chalermchai Kositpipat in honour of His Majesty, The King. The Clock Tower serves as a traffic roundabout and whilst being distinctive enough during the day, the structure and setting takes on a whole new quality when it is lit up in the evening – becoming quite the attraction among tourists!
Every night at 7pm, 8pm and 9pm (for 10 minutes) the tower turns into a masterpiece with light and sound display – it is definitely a remarkable thing to watch! Meed to look while traveling on Chiang Rai Loop.
Chiag Rai Night Bazaar
One thing Chiang Rai is famous for is its night market, a bustling market that starts around 5pm every evening and goes way into the night, the perfect place to pick up souvenirs, handlooms, handmade crafts, etc. Another great thing to try out at the night markets is the food, where you will find some of the best Thai street food on display which does not disappoint!
The only place on the Chiang Rai Loop where you will find a lot of souvenirs and a lot of tasty, varied and authentic Thai food. Eat well and use this opportunity to buy great gifts for your friends and family.
Day 2: Chiang Rai – Mae Salong
If you stay here for one more night, then you will have time to visit the magnificent Phu Chi Fa mountain, which is located on the Thai-Lao border, and with which breathtaking views of the surrounding area open up.
There are two routes to get to Mae Salong – the first one goes straight through and is about 60-70km long, the other route is more scenic route but more than double the distance in terms of kilometers. The best way to get to here is by motorcycle.
Direct route – 60km
Scenic route – 170km
Thing to do on the road to Mae Salong:
White Temple Wat Rong Khun (open 8.00)
Wat Rong Khun is probably the most interesting Buddhist temple that you will visit in all of Northern Thailand, that is because Wat Rong Khun is a large art exhibit that is also in the shape of a Buddhist temple. The original Wat Rong Khun was bought by local Thai artist Chalermchai Kositpipat, who also designed the Golden Clock Tower. He spent a lot of his own money in renovating Wat Rong Khun to make it a tourist attraction and intends to use the space around Wat Rong Khun for tourists to learn about the teaching of Buddhism.
This place is more popularly known among tourists as the White Temple in Chiang Rai.
Open from 8am, make sure you arrive early before peak times! Must-see if you are traveling around the Chiang Rai loop.
Black Temple or Black House (open 9.00)
Most commonly known as The Black Temple or The Black House, Baan Dam Museum is a temple styled art gallery that would probably impress even the most vetted temple hopper. Baan Dam Museum features work by Thawan Duchanee and other contemporary Thai artists that includes a collection of wood buildings, painted black with each of them holding a different display of uniqueness tied to the Black House theme.
In saying that, each exhibit is made from the remains of a variety of dead animals including moose antlers, water buffalo skulls, to snake skins and even blow fish hanging from the ceiling – almost everything from the Black House is made from the remains. Although, there is no sense of being in an animal cemetery at all as it has been laid out quite artistically and is unlike anything you've seen before!
The Black House is home to a lot of Thawan Duchanees life work along with a lot of artist's taxidermy too.
Perhaps this could be the most unusual place on the Chiang Rai Loop?!
Union of Hill Tribe villages and the Karen Long Necks
Northern Thailand borders Burma and is a very mountainous region home to a large number of tribes and their people. For the tribes that are willing, the Thai Tourism Department has created accessible villages for them to inhabit which has made them open for tourists.
The small village known as Union of Hill Tribe Villages is inhabited by the more commonly known tribe, Karen Long Necks, where tourists from all over the globe can come to understand their lives, culture, and practices, whilst also being able to take home a piece of Thailand's tribal heritage.
Doi Tung
Doi Tung (Mae Fah Luang), part of the Nang Non-Mountains is, in fact, the highest peak of this mountain range that is heavily forested and about 1650 meters above sea-level. At the summit, there is a Temple, a bunch of cafes and a tree garden.
The weather here is cold and icy all year around.
View Point
As with every summit, Doi Tung too has a designated viewpoint that offers a panoramic view of the entire mountain range and a beautiful village – that is also the best place to see the sunrise and sunset. There are many trails in and around the summit that every nature lover will enjoy.
Doi Tung Royal Villa
The Royal Villa is the home of Her Royal Highness the Princess Mother of Thailand. It is built in an authentic Swiss Chalet style with lawns and gardens around tastefully manicured and set up. The Royal Villa is a mixture of all that Thailand has to offer. Architecture, nature with a tinge of foreign influence.
Open from 7am-11:30am and 12:30pm-5:30pm
Entrance fee:
– for adults 90THB;
– for children 45THB
The Hall of Inspiration
The Hall of Inspiration is a collection of stories about an old Royal Thai family called the Mahidol's. It includes a lot of stories that depict how the family was encouraged to serve the country that also covers three generations of the family. Each of the exhibits posing as an encouragement to serve Thailand.
Open from 8am-5pm.
Entrance is free.
Botanical Garden
Home to all sorts of flora and fauna, the Doi Tung Botanical Garden is a nice place to kick back, relax, read a book and just cool off. The main features of the garden are the shaped walks and sculpted hedges that pose as a great place to take pictures.
Open from 6:30am-6pm.
Entrance fee:
– for adults 90THB;
– for children 45THB
Doi Tung Tree Top Walk
The Doi Tung Tree Top Walk is a remarkable experience located amongst the Botanical Gardens where tourists walk along a 300 meter wooden rope bridge. After being harnessed into a safety belt, you can then walk across the treetops and have a beautiful view of the Gardens below and the mountain range above.
Entrance fee:
– for adults 200THB;
– and children 100THB
Doi Tung Temple + viewpoint
Near the summit of Doi Tung, is the Doi Tung Temple called Wat Phra That Doi Tung. The site is at about 2,000 meters above sea-level and was built in the 10th Century. The Temple atop Doi Tung has twin stupas, both stupas being golden in color. The site is in a quaint little location that offers a nice panoramic view of the mountain range and if you're really lucky, you get to see the clouds above.
To the left of the main building is a path that leads to the amazing viewpoint.
In this place of the Chiang Rai Loop you can see the surroundings from a bird's eye view – so remember, you are not a bird and therefore you should be careful! Take precaution and hold onto the handrails provided.
Doi Tung Arboretum
Slash and burn farming techniques destroyed large portions of the forest on Doi Tung. The Princess Mother dedicated herself to restoring a particularly damaged area which is now known as the Doi Tung Arboretum. It's 9 kilometers north of the Doi Tung Royal Villa and is replanted with native and non-native flowers and trees. There is a walking path, too, that offers panoramic views of Thailand's neighboring country, Burma.
Open between 7am-5:30pm.
Entrance fee:
– for adults is 90THB;
– for children 45THB
Day 3: Mae Salong – Doi Angkhang (coldest point in Thailand)
Direct route – 113km
Scenic route – 145km
Things to do on the way to Doi Ang Khang:
Tea Farm (101 Tea)
The Chiang Rai province is best known for its tea plantations, and along the route from Mae Salong to Doi Ang Khang, it is blessed with tea farms in abundance.
You can stop for a bit, enjoy a fresh cup of tea with the local tea-pickers and make a photo or two while you're at it.
UPD: You can read more about Doi Ang Khang here.
Phra Boromathat Chedi
Set against a bright blue sky, the white with golden carvings stupa of Phra Borommathat Chedi is a site to take in being one of the last remaining symbols of the influence of the Srivijaya Kingdom.
It is a standing testament to the diverse history of Thailand and like most temple or monastery set-ups, the Phra Borommathat Chedi is also built on top of a hill and provides panoramic views of the towns below.
Memorial Park, General Tuan Shi-Wen tomb
General Taun Shi-Wen is the General that led the Chinese anti-communism division forces into Thailand during the communist revolution. He made it as far as Doi Mae Salong but unfortunately died there. In his memory, there is a tomb that was erected on one of Doi Mae Salong's many hills and it still remains.
"We have to continue to fight the evil of communism, and to fight you must have an army, and an army must have guns, and to buy guns you must have money. In these mountains, the only money is opium"
— Gen Tuan Shi-wen, Weekend Telegraph (London), 10 March 1967
Wat Tha Ton
The Wat Tha Ton is a large temple complex in Thailand that is only a few kilometers shy of Burma. The temple complex, at one point, had only the main stupa but with more tourists coming its way, a couple of supporting structures have recently been built to give the temple complex a grander look. The temple, like most temples in the region, is built on top of a hill that overlooks a couple of villages and a small river that flows down below.
Fang Hot Spring
Fang hot springs is are in the middle of a national park that have multiple little geysers that lead up to the main geyser. The area surrounding it is quite forested with the little development that the Thai Tourist Department has done but it blends in well with the surroundings.
The Fang Hot Springs is a nice little place to relax and take a dip during the winter months.
When driving to Doi Angkhang and sleeping, don't forgot warm clothes, closed shoes, and motorbike gloves. In January, the temperature can reach minus 3 degrees Celsius (26°F) and the hotels there have no heating devices only very warm blankets.
Day 4: Doi Angkhang – Chiang Mai
Direct route – 160km
Scenic route – 173km
Doi Ang Khang viewpoint (5:00-5:30)
As with every summit, Doi Angkhang has a viewpoint too that offers a panoramic view of the entire mountain range with a beautiful view – definitely a great place to watch the sunrise and sunset.
There are many trails in and around the summit that every nature lover will enjoy. Also, many tea and coffee stalls at the summit for tourists to enjoy while they take a minute in the lap of mother nature. This, however, is on the way to Chiang Mai so is usually just a stop on the way.
The coldest point on the Chiang Rai Loop. Yes, you may be cold and your nose may be blue and covered with light frost, but you are still in Thailand!
Chiang Dao Cave
The Chiang Dao mountain has multiple caves within it that are said to be about 12 kms in length. A few of the caves are open to visitors and have well-lit ceilings and corridors that highlight the stalactites and stalagmite formations. With most of the cave being inaccessible, the parts that are accessible are led my local tour guides.
The highlight of the entire cave experience is the reclining Buddha statue inside it, but along the way, there are a lot of inscriptions and drawings on the walls that date back to centuries before. Thailand has always been known for its caves and this particular one was used as a safe-haven during the Burmese invasion and is home to a lot of history.
The entrance of the cave is about 180 steps from the car park, to which tourists have to climb the Naga Serpent staircase to enter. There is no need to worry about having to crouch down to get through the cave as the cave is quite big on its own, however, make sure that the path you take is well lit and check with the guides before wandering off into any tall caverns.
After visiting the Chiang Dao cave, you can return to Chiang Mai, or turn to road 1095 towards Pai town, and continue your journey by motorcycle for another 3-5 days on the Mae Hon Son Loop.
Wat Mae Kaet Noi (Temple of Hell)
Wat Mae Kaet Noi roughly translates to Temple of Hell. The temple essentially depicts the consequences of the choices we make and show you that every choice we make determines whether we go to hell or heaven. There are a lot of interactive action machines inside this temple, so make sure you take change.
Before you visit this place – change 100-150 baht for 10 baht coins to be used on the action machines.